What is WODA?
The World Organization of Dredging Associations (WODA) is an independent, non-profit, professional organization. It is composed of three separate, autonomous sister dredging associations:
WEDA – Western Dredging Association regions covers North, South and Central America.
CEDA – Central Dredging Association serving Europe, Africa and the Middle-East.
EADA – Eastern Dredging Association serving the Asian, Australian and Pacific region.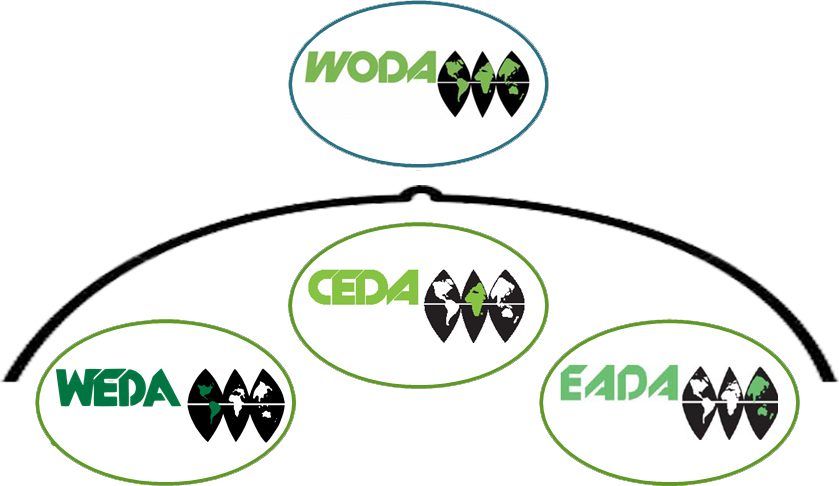 What are WODCONs?
The World Dredging Congress and Exposition (WODCON) is held once every three (3) years by WODA, the World Organization of Dredging Associations. First formed in 1967 in New York and held throughout the world since then, these conferences cycle between the three sister dredging associations WEDA, CEDA & EADA. In 2013, CEDA hosted WODCOM XX in Brussels, Belgium. In 2016, WEDA hosted WODCON XXI in Miami, FL, USA. The next World Dredging Congress (WODCON XXIII) will be hosted by CEDA in Copenhagen, Denmark May 16-20, 2022.
The World Dredging Congress has become the most important and anticipated event for dredging professionals worldwide. WODCON's are the only global event dedicated exclusively to dredging and maritime construction, and provides a unique platform for researchers and practitioners from industry, academia and governments to meet and discuss dredging.
Meet the WODA Members
Each member association is governed by its own Board of Directors. The Board of Directors of WODA consists of two members from the Board of each of the regional associations. The Chairman of the Board is the Chairman or President of the member association, which is organizing the forthcoming World Dredging Congress and Exposition for WODA. His term of office extends until the last day of that World Dredging Congress.